Enjoy Toowoomba's Annual Charity Christmas Lights Display - Perfect For The Whole Family!
Time: 7pm to 10pm
Date: 2-24 December
Location: Botanic Gardens, Lindsay St Toowoomba
Toowoomba's Christmas Wonderland is a family-friendly event held in the Botanic Gardens, Queens Park. The event operates from 7pm to 10pm each night from Saturday 2nd December 2023 up to, and including Christmas Eve. Enter by gold coin donation or 'Tap & Go' payment at each of the three entry points.
Enjoy the traditional Christmas lights display, as well as local and roving performers, raffles, BBQ and Christmas entertainment for the whole family.
Our Beneficiaries
Toowoomba's Christmas Wonderland proudly supports the following local organisations.
All donations are will be evenly distributed to the beneficiaries. The major beneficiaries include Toowoomba Hospital Foundation, The Toowoomba Hospice and Lifeline Darling Downs and South West Queensland.
Want to get involved? Donate to the beneficiaries below!
Bringing Christmas Joy To Toowoomba Since '03
The annual Toowoomba's Christmas Wonderland is proudly hosted by the Lions Club of Toowoomba West Inc.
In 2022, over 71,500 visitors enjoyed Toowoomba's Christmas Wonderland in the month of December and we are looking forward to welcoming back our community in 2023.
Learn more about our history Our History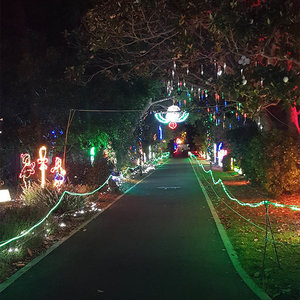 What's On At This Year's Christmas Wonderland
Sponsors
Toowoomba Christmas Wonderland's Sponsors
Toowoomba's Christmas Wonderland is an approved event of the Lions Club of Toowoomba West Inc. The 'event' refers to all activities relating to Toowoomba's Christmas Wonderland including the approved site in the Botanic Gardens, Queens Park, Toowoomba; the Setup; the nightly activities and the Pulldown. The 'event' covers the period from mid-November to early January.
For the comfort, safety and the enjoyment of all persons, Toowoomba's Christmas Wonderland (TCW) advises that:
No animals may be brought into the event, except guide or licensed service assistance dogs;
No alcohol or drugs of any type shall be brought into the event;
Smoking is prohibited within the event;
No glassware or sharp objects may be bought into the event;
Frisbees, balls, inflatables or other devices that may jeopardise the safety of others or impede volunteer staff are not to be brought into the event;
Skateboards, bicycles, roller blades or other recreational equipment that may interfere with pedestrian traffic are not permitted;
Vehicles are parked at your own risk. TCW will not be responsible for loss of, or damage to any vehicle, accessory or contents in, or on any vehicle;
Persons causing a disturbance or refusing to comply with requests from TCW staff may be ejected from the event;
Persons enter TCW at their own risk and must take proper care of all things they bring into the event. TCW will not be liable for any loss or damage to personal property;
Persons entering TCW agree to be responsible for their own actions and indemnify TCW from any loss or liability, cost, expense or damage arising from or in relation to their acts or omissions;
Persons gaining unauthorised access to the event areas may be liable for prosecution;
All accidents or emergencies are to be immediately reported to TCW volunteer staff;
Persons must obey all signs, notices or directions given by TCW or security staff whilst at the event.